What if you could generate a MONTH'S worth of sales in

ONE

weekend?
Did you start a business and realize that marketing was harder than you thought?

Are sales slower than you thought they would be?

Are you having trouble reaching new customers?

Starting a business is a brave and exciting journey, but it also comes with its own set of challenges. One of the biggest hurdles that entrepreneurs face is finding customers and generating sales in the early stages. It can be a frustrating and overwhelming experience, especially when you have invested so much time and effort into building your business.
Let me guess...
You started your business, your website is up, and you're posting on social, but sales are just trickling in.

You've tried some local advertising and maybe a few Facebook ads, but it's not generating the cash flow you need to make it worth it.

Or maybe you haven't started your business, and you have a few ideas of what to sell but aren't sure how well it will do.

Your business is doing ok, but you're struggling with finding a new customer base to increase sales.

You need a way to generate sales quickly.
You are in the right place if you're a:
Brick and Mortar Store Owner (You have a physical location like boutiques, gift shops, etc)
Maker - Candles, Soaps, Vintage Upcycle, Jewelry

Bakeries/Food Creators

- Macaroons, Cookies, Cupcakes, Honey, Soups, etc
Artists - interested in selling their work through originals and prints

E-commerce Store Owners

with physical products on hand
As long as you have a physical product, this course is for YOU!
This course is NOT for you if you're an MLM, Drop Shipper, or anyone that doesn't have physical products on hand.
I'm thrilled to introduce a new course designed specifically for entrepreneurs like you. This course will help you overcome the challenges of finding customers and generating sales by providing you with the tools, strategies, and support you need to succeed.
Learn my step-by-step strategies for profitable Pop-Ups with
You can do it! Start selling your products to customers NOW!
This course is designed to be practical, hands-on, and interactive. You will have the opportunity to work on real-life scenarios, receive feedback from experienced business professionals, and connect with other entrepreneurs who are facing similar challenges.
We understand that starting a business can be a lonely and isolating experience, and that's why we have created a supportive community of entrepreneurs who are there to help and encourage each other. Whether you are just starting out or looking to grow your existing business, our course will provide you with the tools, knowledge, and support you need to succeed.
So, if you're ready to take your business to the next level and overcome the challenges of finding customers and generating sales, sign up for our course today. Let's work together to achieve your business goals and create the success you deserve.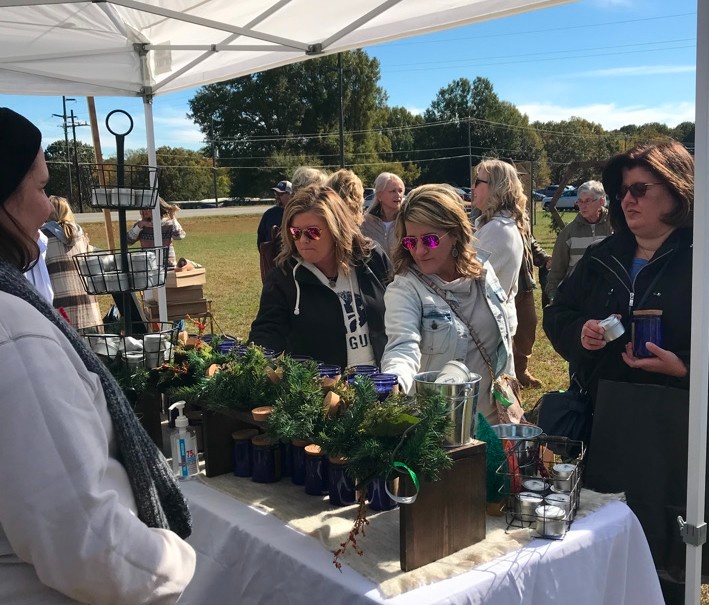 Pop-ups are: low-budget, short-term, and quick.
Get your brand in front of new shoppers.
Test out your products before you mass produce, or before you invest in a storefront.
Engage with customers in a more direct and engaging way
Yes, It Really Is Possible!

Sounds great, right? In Pop-Up Powerhouse, not only will you learn about the benefits, and receive the step-by-step tested process, but you'll be given templates, resources, and tools to make your first or next Pop-Up easy! It's the perfect guide to help alleviate the stress, hassle, and uncertainty you're facing.
Just Imagine, You Could…
Get your businesses started. We've all been there … you've been dragging your feet for far too long! Every excuse under the sun has been made and therefore you haven't taken the leap to get it started. Now is your time! It's a dream or an idea that's worth pursuing and this is just the thing to kick-start it into action!
Increase your revenue. Or maybe you've taken the plunge … You've started that dream business but now after some time, you feel like it's at a standstill. Wouldn't it be great to learn how to tap into ways to give your business a quick cash injection?

Get your brand in front of new & repeat shoppers. There are always more customers to be reached! This informative workshop will help you discover ways to identify the best markets for your business, connect with your buyer, and foster a relationship where people want to return and secure your product(s) over and over again!
Through many years of experience, I've learned that the right strategic moves can make all the difference. I'm passionate about helping others succeed and believe the lessons I've learned along the way will benefit you and your business. Pop-Up Powerhouse can be your go-to resource no matter how far along you are on your entrepreneurial journey.
INTRODUCING
Pop-Up Powerhouse
Are you ready to create consistent revenue for your business?
This informative, online class will teach you everything you need to know to get started with Pop-Ups. With Pop-Up Powerhouse you'll be able to set aside those hesitations that have held you back for far too long and give you the courage you need to take the next step.
You'll learn how to:
Find shows and determine if they're the right fit for you.
Get templates to make your booth design and set up a breeze.
Learn strategies that will create long-term customers for you even past the first sale.
Using my previous experience and knowledge, I've divided this information into short lessons so it's easy to grasp and put into practice right away. Each module will cover a specific question or aspect of the Pop-Up process through video lessons that you can watch at your own leisure and pace. With Pop-Up Powerhouse you'll save time, and energy and get your brand out into the world with ease.
What's Included In The Class...
MODULE 1
I'll show you
EXACTLY

how to find shows and determine if they're going to be a good fit, or if they're going to be a waste of your time.
Where to look and find shows.
Determining if a show is a good fit for your brand.
MODULE 2
I've learned the best tips for applying, so you don't have to recreate the wheel!
What event planners are looking for in new applications.
Factors that may effect your acceptance.
How to present yourself and your brand in the best light.
MODULE 3
Buzzing Booth Blueprint - I'll show you my exact set up and share other ways for you to maximize your space.
The different types of booth layouts and traffic patterns
Things to consider when designing your booth: layout, lighting, merchandising space, etc
We provide a resource list with where to find the items you'll need.
MODULE 4
Booth Signage & Strategy - What's better than done-for-you templates and a strategy to get repeat customers?
Simple signage system and templates. No graphic designer needed!
"Wholesale Builder Strategy" and top templates
The "Follow Up Formula" and templates to encourage repeat shoppers after the show!
MODULE 5
Merchandising - Go behind the scenes with me and get tips on how to get the best product mix.
Determine how much product you need to bring using the Saavy Cost Cheatsheet
Things to consider when preparing your product price ranges
Merchandising tips and strategies.
MODULE 6
Show Preparations will be a breeze with my Pop-Up Packlist
The ultimate Pop-Up Packlist so you don't forget a thing.
The nitty gritty on staffing, payment processors, wifi, and more.
MODULE 7
With 20 years of experience I'll share how to make the most of show day and how to make sure your NEXT show is even better!
Tips to make the most of show day!
The Rinse, Repeat Recap Strategy to make sure your next show is even better.
This Class Is For You If...
You want to start a business or increase the revenue of your current business.
You want to increase your brand awareness and develop a larger customer base.
You want to test out new products quickly and get direct feedback
You want a low-cost, short-term, quick method for testing out a new business idea or product.
YES, I WANT IN!
Alisha LaTour
Working with Laura Schaefer has been eye opening and insightful for my business launch.
Its great working with her and seeing all the pieces of her plan come together. I can't wait to see what the future holds for my business now that I have partnered with her.
Jen Busfield
Laura provides thoughtful and insightful ideas; and is on the cutting edge of what's happening online, so I know that her recommendations will keep my business looking fresh and ahead of the curve.
Melissa Griffiths
Laura knows her stuff! She's an idea-generating machine when it comes to marketing and up-leveling my business
NICE TO MEET YOU
I'm Laura Schaefer
While I was earning my MBA, I started my very first business in 2003. After graduation, I worked with other retail businesses, authors, non-profits, e-commerce businesses and more on developing their marketing and business strategies. I currently own:
Wandering Lark®
FlowerKind ®
Three Keys Creative
I use what I've learned over the last 20 years to help people just like you start a business they love. I started Three Keys Creative, with the goal of helping other entrepreneurs tell their stories. Enabling entrepreneurs to do what they love while working with them to develop strategies for growing their business and bottom line is one of my absolute favorite things to do!
GET STARTED TODAY!
Pop-Up Powerhouse
One-Time Payment - Introductory Pricing
Now Only - $47
Lock in this low price today. The price will be going up soon!
REGISTER NOW
Frequently Asked Questions
Can I share course info with a friend?
Do you have any incentives if I refer a friend?
I loved this class and want more! What other courses do you offer?